LOCAL 303 ACTION COMMITTEE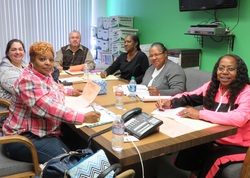 On Thursday, February 26, 2015 the Local 303 Action Committee had its initial meeting. I reestablished The Local 303 Action Committee after several years of obscurity in order to assist the Local Union with the planning and the organizing of Union sponsored activities.

The Action Committee consist of dependable and responsible Union members who are committed to serving the Local Union and its membership. They are tasked with the responsibility of ensuring that all Union sponsored activities are proficiently prepared and efficiently managed.

The Local 303 Action Committee members are Vida Sloan, Margie Glover, Esperanza Salas, Lois Johnson, Cordier Harrel, and Verna Wesson with myself presiding as the Chairperson.

---
"I Stand With Postal Workers!"
National Day of Action – May 14, 2015
By: Vida S. Sloan, Action Committee Member

On May 14, 2015, thousands of Postal Workers across the country participated in a National Day of Action in support of and in unity with the American Postal Workers Union (APWU) whose contract was due to expire on May 20, 2015 with the U.S. Postal Service.

Locally on that day hundreds of craft employees which included Mail Handlers, Clerks, Maintenance, Mechanics, Letter Carriers, Motor Vehicle Operators and Staffers from local Congressional Offices marched and rallied on the busy streets of Downtown Los Angeles near the corner of 7th and Broadway to inform the public of our vision to protect good, stable jobs, to extend hours at post offices, to shorten customers' wait in line, to end the closure of mail sorting centers, and to restore prompt mail delivery.

In addition to the marches and rallies that took place all across the country there was a postcard signing campaign directed to Postmaster General Megan Brennan from the public informing her of their support to stand with Postal Workers.

The National Postal Mail Handlers Union, Local 303, was represented by two members of the Mail Handler Action Committee: Vida S. Sloan and Margie Glover. This Committee was formed by and the members were selected by the Local President, Javier A. Valencia. One of their many duties is to be actively involved, to be informed and to be aware of all legislative issues concerning the Postal Service and those that directly affect the Mail Handler craft.

Good service is crucial to maintain a vibrant, public Postal Service that connects residents and businesses in all areas and provides living-wage jobs that strengthen our communities! Ultimately, we met our goal of informing the public of the Postal Services plight and to get their pledge in support of the campaign "I Stand With Postal Workers!"
---
"The MAC Team"
By: Margie Glover, Local 303-MAC Recorder

The National Postal Mail Handlers Union Local 303 Mail Handlers Action Committee (MAC) is comprised of Mail Handlers in Good Standing that were selected by our Local President, Javier Valencia. MAC assists the Local 303 Executive Board organize planned social and educational union functions.

The Local 303 MAC team is a group of multi-skilled individuals that are business oriented, are experienced in event planning, collectively have years of union knowledge and service and are dedicated to serving the membership.

Once the Executive Board reaches a decision and the MAC team is given an assignment we begin contacting various media outlets, entertainment venues, business sources and the National Union Office. Our responsibilities are executed with the utmost expertise in order to make your experience at union events harmonious, elegant, chic and informative.

Local 303 President Javier Valencia serves as the Committee Chairperson and facilitates all of the meetings. This is the first time that this group has worked together as part of the Mail Handler Action Committee.

We have and will continue to work hard to make your union assemblies enlightening, memorable and worthwhile for you and your family. Your NPMHU Local 303 MAC members are Margie Glover, Cordier Harrell, Lois Johnson, Espie Salas, Vida Sloan, Verna Wesson-Smith and Local President Javier Valencia.