NPMHU - Local 303 Christmas for Children
On Saturday, December 5, 2015 Local 303 held its annual Christmas for Children. The event was attended by Mail Handlers and their children.

The attendees were greeted with Christmas music and carnival games where tickets won were exchanged for prizes. A kid friendly lunch menu of hot dogs, hamburgers, chips, cookies, sodas and water was provided.

The members and their guests were very appreciative and commented that the Location and ambience of the event was very pleasant. Everyone went home happy especially the children and that is what mattered most. Each child was presented with a gift and a picture with Santa Claus.

A special shout out to the Executive Board and the Mail Handler Action Committee (MAC) who helped set up the event and worked the registration and game tables. A special shout out to LAPDC Mail Handler Miguel Salas who volunteered his time to play Santa Claus for the children. He did a fantastic job.


---
SAN DIEGO BRANCH 2015 HOLIDAY DINNER/DANCE
​Brothers and Sisters it was an absolute pleasure to attend the Holiday Dinner/Dance for the San Diego Branch of NPMHU Local 303 on Saturday, November 28, 2015.

San Diego Branch President Dwight Whitney and his assistants did an excellent job in the planning and managing of the event. Everyone wore their Holiday best as they enjoyed the ambience of the Crowne Plaza. Members were served a selection of delicious appetizers as they arrived. There was a wide selection of soft drinks, wine and spirits at the no host bar. The buffet dinner included chicken, salmon and prime rib accompanied by a variety of salads and sides. A varied selection of pies and pastries filled the desert table.

Members wishing to participate in the raffle for one of many give-a-ways had purchased tickets. The raffle items were subsidized by funds collected from participants at the San Diego Branch. A very entertaining portion of the evening was the dance contest. It began with many couples taking to the dance floor and was eventually reduced to the two remaining couples. First place was awarded a flat screen TV with second place receiving a $100 cash award.


---
2015 LOCAL 303 HOLIDAY DINNER AND DANCE
​On Saturday, December 12, 2015 Local 303 held its annual Holiday Dinner/Dance. This year it was decided that the dance would be held at the Crowne Plaza Hotel and Casino. The change of venue was very much welcomed by our members as it showed by the capacity crowd that was in attendance. The Executive Board greeted members as they entered the ballroom which was beautifully decorated and very much in keeping with the holiday spirit.

We were fortunate to have a very special guest speaker attend our Holiday Dance. United States Congresswoman Loretta Sanchez representing California's 46th Congressional District accepted Local 303 President Javier Valencia's invitation to attend the Holiday Dance. Congresswoman Sanchez is a candidate for the Office of United States Senator representing State of California. She is vying for U.S. Senator Barbara Boxer's seat who recently announced her intent to retire. The Congresswoman gave a dynamic speech at our Holiday Dance. She spoke of her 100% voting record in this congress on issues that are supportive of the middle class of this country. She also spoke of her 98% lifetime voting record on Congressional Bills that are significant to Labor Unions and the American working class. The highlight of the event occurred when President Valencia, accompanied by the Executive Board, read a prepared statement endorsing Congresswoman Sanchez in her run for U.S. Senate. .

The Crown Plaza Hotel and Casino prepared an excellent buffet of chicken, tri-tip steak and salmon in addition to assorted rice, pastas and vegies. Deserts consisted of single serve portions of cakes, pies, and fruit tarts accompanied by a variety of beverages and spirits. To make the night unforgettable, a photographer was made available for members to have their pictures taken. Everyone had a good time and many accolades were given about the choice of venue as well as the dinner/dance in general.


---
THE SIERRA COASTAL DISTRICT EVENT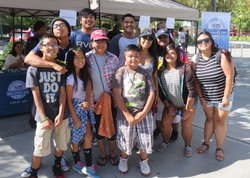 On Sunday, September 27, 2015 NPMHU Local 303 held an event at Magic Mountain Amusement Park in Valencia, California. The event was well attended by over 500 members and their families. In the past, the Sierra Costal facilities, which include Bakersfield, Santa Barbara and Santa Clarita, had never been offered a Union event that was in close proximity to their facilities.

There were games and prizes for the children as well as for the adults. Sodas, water and ice cream helped to beat the heat. The food was great and the entertainment was fun.

The Executive Board felt that it was only fair to allow our Union Brothers and Sisters from that region an opportunity to attend a Union sponsored activity. The Executive Board ensures that Union sponsored activities are held for all of our Union Brothers and Sister from all the regions in our Local Union.

The Executive Board will be planning new and exhilarating events for our membership in the years to come. We are discussing events such as beach parties, trips to the mountains (snow trips), bowling tournaments, softball games etc.… We our also listening to our members as to what they would like as an event.

Thanks to everyone who came out and enjoyed themselves. Thanks to the Executive Board for supporting and sponsoring the event. And a special thanks to the Mail Handler Action Committee for all their hard work behind the scenes. Please enjoy the pictures that were taken of our Members and their families.

---
---
FIESTA VILLAGE FAMILY FUN PARK HOSTS SAN BERNARDINO AND MORENO VALLEY
On Sunday, September 20, 2015, NPMHU Local 303 sponsored an event for Mail Handler Union members and their families from the San Bernardino and Moreno Valley branches at Fiesta Village Family Fun Park in Colton, California. The event was coordinated by our Local 303 Mail Handler Action Committee (MAC) and members of your Local 303 Executive Board.

It was a blistering day with temperatures above 100. Regardless of the heat, the MAC and the E-board stayed true to our task to ensure that all Union members who attended the event had a great time. Fiesta Village Fun Park boasts water slides, miniature golf, go-carts, laser tag, an assortment of carnival rides as well as an air conditioned arcade and a Dairy Queen.

Food and refreshments were offered throughout the day with the menu consisting of hamburgers, hotdogs, potato and pasta salads, chips, pork and beans and a variety of soft drinks and water. We want to give a BIG SHOUT OUT to DJ Jerome R. Saxton from the Moreno Valley branch who made his services available by providing musical entertainment for his fellow Mail Handlers.

Your Local 303 Executive Board and your Local 303 Mail Handler Action Committee are planning new and exciting events for our Union members and their families. This is your Union and we want you to be proud it.

Plenty of pictures were taken, I hope that you will enjoy them as much as we have.


---
---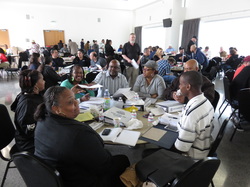 Shop Steward Training - Los Angeles and Surrounding Areas

Shop Steward Training for both our Regular and Alternate Shop Stewards was held on March 10-11, 2015 by Local 303. Approximately were in attendance.

The training was conducted by our National trainers Tim Dywer and Paul Hogrogian. Paul was recently selected by our National Executive Board as the successor to National President John Hegarty who has announced his retirement as of May 1, 2015.

The training took place at the Sergio Rascon Administration building of Local 300 of the Laborers International Union of North America (LIUNA). Our Brothers and Sisters from LIUNA allowed us use of their facilities enabling us to conduct the training of about 100 of our Stewards simultaneously.

Also participating in the training were TJ Branch, Contract Administration Department (CAD) Manager, Rudy Santos, National Executive Board Member/ NPMHU Western Region Representative, David Ross, Manager and Step 3 Representative for the Western Area and Don Gonzalez, Step 3 Representative for the Western Area.

In addition to the Shop Stewards the following Local 303 elected officers were in attendance: Daniel Ortega, Branch President, Santa Barbara Branch; Loren Chase, Branch President, Bakersfield Branch; Pete Behen, Branch President, Santa Clarita Branch; Greg Harris, Branch President, LAISC Branch; and Lorenzo Lewis, Branch President, LAPDC, which by the way, is the largest branch in Local 303; Tim Cabot, Branch President, City of Industry Branch; Elisa Salazar, Branch President, Anaheim Branch; Deborah Bachor-Lehmer, Branch President , San Bernardino Branch; and Bill Roux, Branch President, Las Vegas Branch; and Benito Araiza, Branch President, Santa Ana Branch, who is the longest tenured Branch President and the Local 303 Lead Arbitration Advocate.

Members of Local 303 Executive Board also in attendance at the Shop Steward training included Local 303 Vice President Juan Torres, Local 303 California State Board Representative David Castillo, Local 303 Treasurer Van Cunningham, Local 303 Nevada State Board Representative Eric Schneider and Local 303 President Javier Valencia.

The Shop Steward Training was scheduled and conducted so that our Shop Stewards can better represent our Mail Handlers, through contract knowledge, interpretation and the application of taught skills.


Written by:
Javier Valencia
Local 303 President
---
---